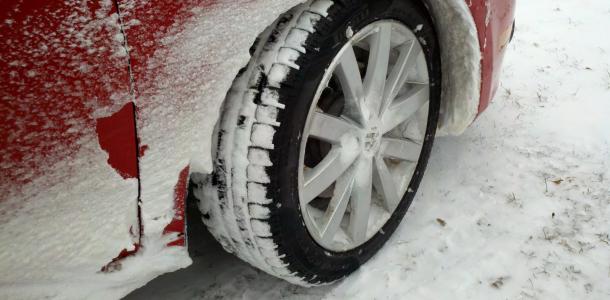 Your tires are designed to keep your vehicle stable on the road, moving only in the direction you intend, and let you stop when you intend to stop. Cold and inclement weather can really hamper your tires' ability to do their job, which could put you and your passengers in an unsafe situation. There are some things you should keep in mind regarding your tires with winter approaching fast.
It's a good idea to keep a set of reinforced tire chains in your trunk, even if you have all weather tires.
It's always important to have proper tread on your tires, but even more so in wet conditions. Your tread moves moisture away so the rubber can make contact with the road. If you're tire tread is too low, your tires won't be able to deal as well with wet conditions and you can slide or hydroplane.
Make sure your tires are inflated to the proper, manufacturer suggested PSI. If you are stuck on a slippery surface, you can let a little air out to get better traction. If you find that you need to do this, make sure you bring your tires back to the proper inflation level as soon as possible to avoid tire damage.
If you're driving a rear-wheel drive vehicle, you can add weight to the bed or trunk for more traction. Make sure the weight is stable – if it shifts, it can cause you to spin out.
Don't spin your tires if you're stuck. This creates heat, which melts snow, which will refreeze into ice and become even slicker.
Winter driving can be an adventure. Make sure your tires are up to the task. As always, if you're ever concerned about your vehicle's performance or winter readiness, bring it into Golden Triangle Auto Care for a free 30-point inspection.