Denver Oil Change Pricing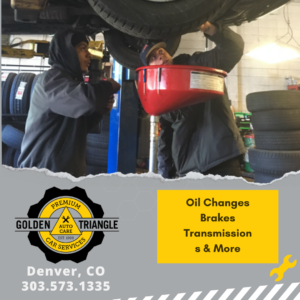 Golden Triangle Auto Care delivers our best Oil Change pricing and Car Care offers to our new and loyal Denver, Colorado customers. Each oil change includes up to 5 quarts along with our exclusive 32-point Vehicle Health & Safety Evaluation. If your vehicle's tires need rotating, we will take care of that too at no charge. We are conveniently located off Speer Blvd. at 11th Avenue, an easy in and out if you are in the Golden Triangle neighborhood or heading into downtown Denver. These same auto repair deals are available at our second shop, InC Auto Repair Center located in the Cottonwood Shopping Center in Parker, Colorado. Specialized filters supplies, and taxes are extra; ask our front desk service team for a quote when you schedule your appointment.
Oil Change Pricing Details (as of 5/1/23)
Synthetic Blend oil – starts at $55.00
Full Synthetic oil – Starts at $90.00
Euro oil – Starts at $90.00
Diesel oil – Call for pricing
Pricing Alert 5/1/23:
All petroleum products continue to undergo price fluctuation. As these increases make their way through the supply chain funnel, we will continue to adjust all of our pricing to reflect those increases.
Whatever your vehicle needs, we are here to help you out. Pricing valid at Golden Triangle Auto Care in Denver Colorado – or at our second shop, InC Auto Repair Center in Parker, Colorado. Golden Triangle Auto Care and InC Auto Repair Center reserve the right to adjust pricing based on market conditions at any time; terms may change at any time at the discretion of Golden Triangle Auto Care or InC Auto Repair Center without prior notice.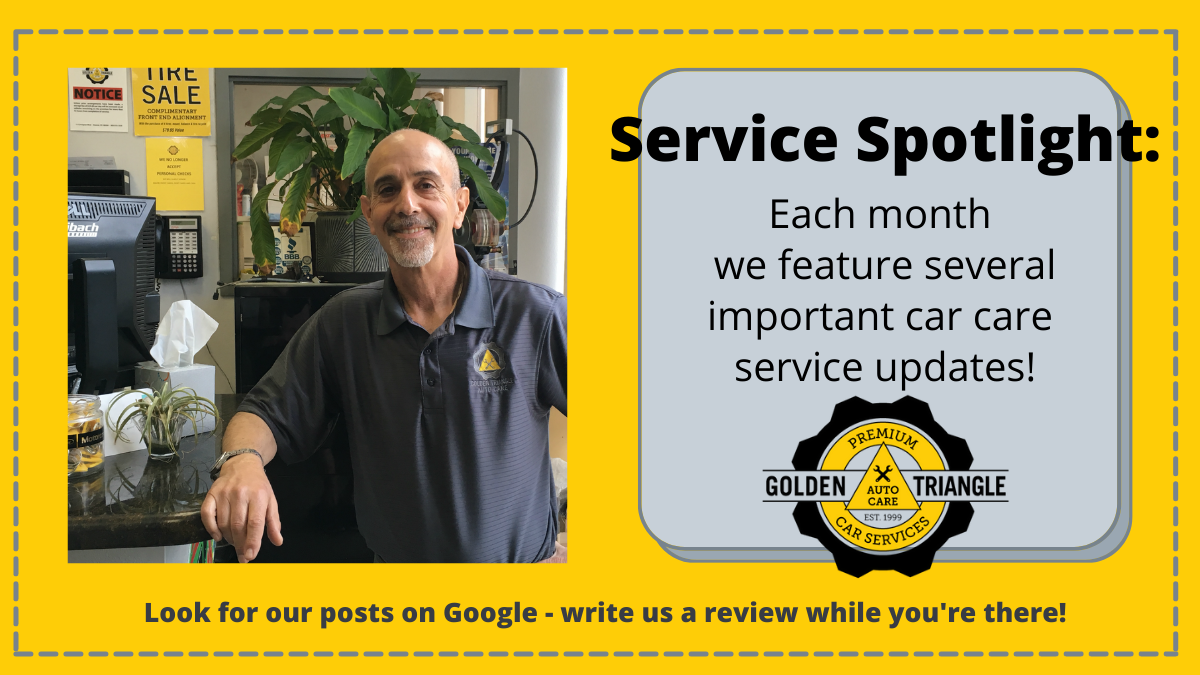 October Service Spotlight
Nearly every week we post a new spotlight up on Google Business as well as our Facebook & Twitter feeds. Are you following us?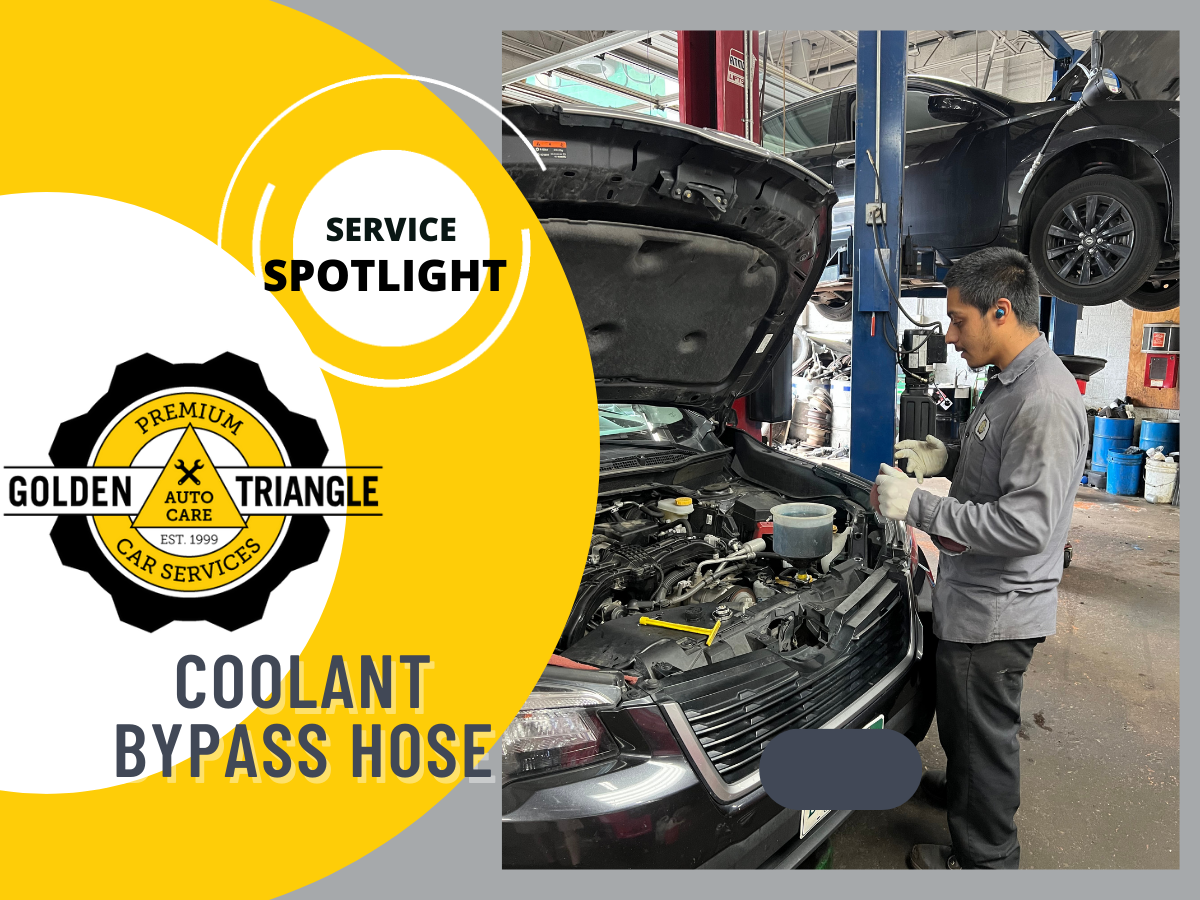 October (the month of ghosts & goblins) brings a change in season and thoughts of what your car or truck will need in the coming months. Throughout the year we've offered a great Back-to-School deal, and shared stories about dealing with front brakes, wheel bearing assembly and axle shaft, exhaust cams, rocker arms, A/C discharge hoses, front brakes, wheel bearings, summer help, freon recharges to your A/C, employee safety in the shop bays, front crank seal failures, and celebrating a customer's new wheels, exhaust leaks & smoke tests, collaborative budget planning to replace brakes, and testing for weak battery charges during our 32-point Vehicle Health & Safety Evaluation, battery corrosion, new wheel bearings & alignments, hunting down annoying noises, replacing headlights, fixing broken A/C brackets, compression tests, after market updates, rear knuckle and wheel speed sensor mayhem, and more. We've got the best auto repair crew in Denver, and we're equipped to handle just about anything you can drive our way!

Premium Warranty at Golden Triangle Auto Care
We are proud to offer our expanded warranty: 4 Years or 40,000 miles on all parts and service
delivered by Golden Triangle Auto Care or InC Auto Repair Center.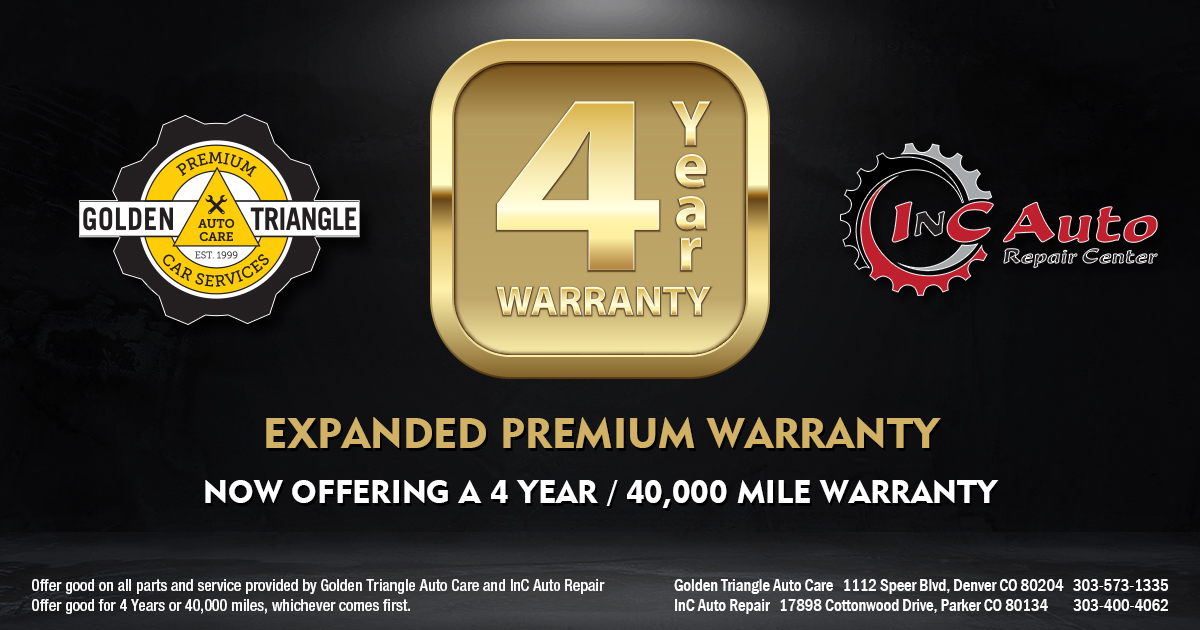 Referrals are a Win for Everyone!
We work hard for your business and appreciate your telling your friends and family about the quality car and truck repair services we offer.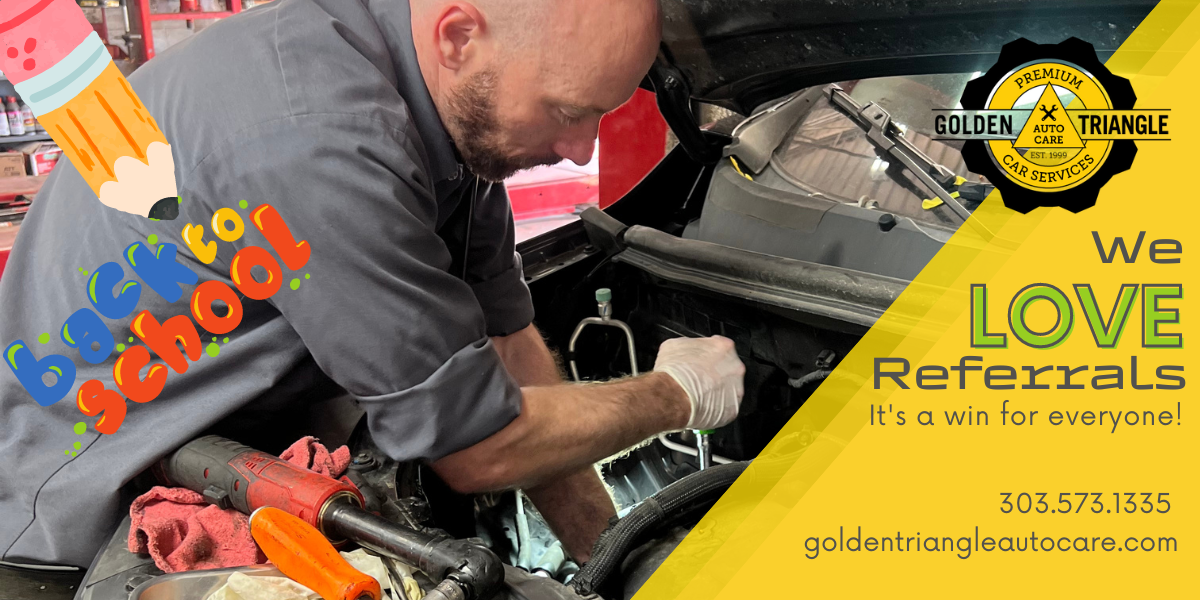 Car Care Gift Certificates
Get that student ready to care for their own car early in their driving life!
Gift Certificates are the perfect way to celebrate all those growing & learning.
We've got gift certificates in any amount. Contact us today.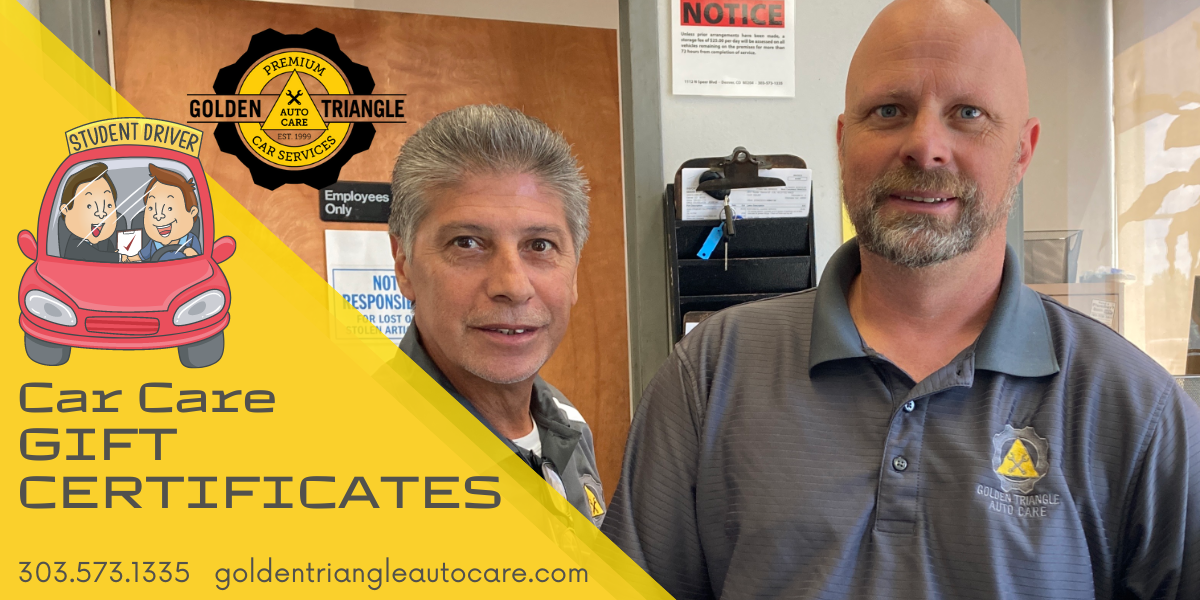 Don't Miss Out!
Sign up to receive our monthly newsletters!
They always include our latest deals and other tips on the best car care maintenance for your Colorado vehicle.