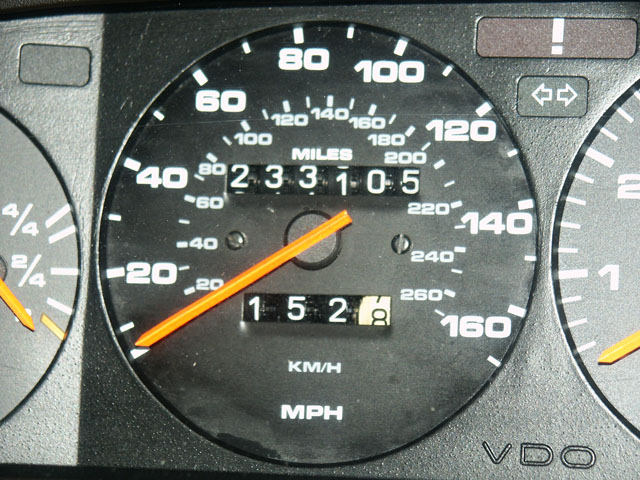 With the economy recovering but still puttering along, you might be like the majority of Americans who are putting major purchases on the back burner. When it comes to your wheels, that means looking for every last way to squeeze an extra 10, 20 or 30 thousand miles out of your current vehicle. In fact, 68% of all cars on the road today have more than 75,000 miles on the odometer.
While it's true that your regular maintenance schedule can guide your trips to the mechanic, older more driven vehicles carry unique characteristics that require special attention and care. As engines age their performance decreases, and as a result, oil breaks down more quickly. Also with time, seals start to deteriorate and gaskets become brittle. Oil leaks, not to mention other fluid leaks, begin to occur and oil consumption increases. This in turn affects engine performance. As you'll see below, TLC for an older vehicle involves a number of other systems as well.
With a drum roll (against the neck of an unopened quart container of oil if you will), here are our Top 10 Rules of High-Mileage Car Maintenance:
Find a Good Mechanic. Verify that any shop you consider is staffed with mechanics that are ASE-certified (National Institute for Automotive Service Excellence.) More than that, be sure you are comfortable with your mechanic and feel supported when asking 'civilian' level questions regarding your car's care.
Regular Oil Changes. In addition to the standard rules for oil changes, you may be wise to check into a specially formulated oil created for high mileage cars. Huddle with your mechanic to go over the options.
Tip Top Tire Care. Ideally you want to check your tire pressure at least once per month. Not only does this help insure better gas mileage and enhance safety, but checking also helps protect against unexpected flat tires. Regular tire rotation and alignment checks round out the gold standard of tire care. Rotations are typically done every 5,000 miles, but consult your mechanic. For alignment checks, refer to your owner's manual for the recommended interval, *but* if you notice uneven wear, bring your car in for a check regardless of your 'due date'.
Pay Attention to Warning Signs. You know your car best, and you will recognize its (often normal) peculiarities; but if something seems odd or new, whether it's a sound, smell, or just a feeling, avoid putting this off and consult your mechanic. Remember, an ounce of prevention is worth a full new set of brake rotors (okay, so we take a little liberty with the traditional saying.)
Pay Attention to Outward Signs. While a sound or a smell can be open to interpretation, fluid stains on your driveway leaves less room for debate. Particularly in an older vehicle, be vigilant about promptly reporting fluid leaks to your mechanic.
Regular Comprehensive Checks – AKA 'Tune-ups'. While 'tune-up' may no longer be an accurate description of today's standard maintenance check, whatever you call it, regular comprehensive checks are key to extending the life of your vehicle. This service typically consists of: An oil change; tire check – and rotation if necessary – a check of the belts; brake line inspection; spark plug and air filter check; and fuel injector check. For good measure, an overall analysis of the engine, as well as safety, computer and undercar systems top off the perfect routine service.
Prepare Your Car for the Seasons. Setting your car up to handle harsh weather elements should become routine, with the help of your mechanic. Browse through our previous blog entries for some weather-related tips, and keep an eye out for future blogs that touch on this subject.
Regular Fluid Checks. As mentioned above, older cars can develop seal issues and begin to leak. You want to catch any problems when they start to head off potential costly repair bills. A regular dipstick check of your oil, a glance at the coolant reservoir and a check of your other fluids can go a long way in maintaining your vehicle's health.
Store Your Vehicle Properly. In addition to your other TLC, why not give your car a comfy place to rest. The relatively dry and temperate environs of a garage, when available, eliminate the significant wear and tear that weather elements can have on a vehicle.
Safety Feature Checks. It goes without saying that the more you drive your vehicle, the greater the chances of an accident occurring. Your car's safety features, like air bags and anti-lock brakes, not to mention others, can also be checked by your mechanic! Consult with him or her for the best interval on these checks.