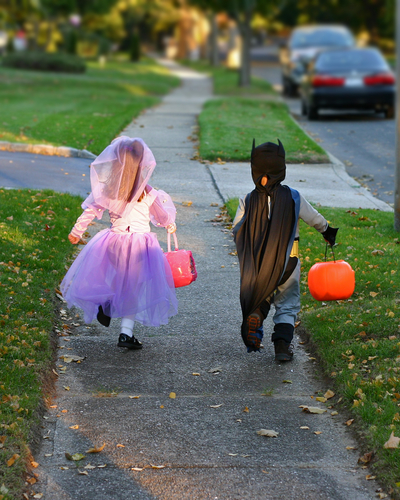 Fall means shorter days, cooler weather, and the beginning of the steep slide into the holidays with Halloween coming up fast. With less light, more challenging weather for driving, and a lot more kids out and about since school is in full swing, fall is a great time for a post on visibility. Here are some tips on making sure you can see everything and that you can be seen by others.
Lights
Have someone sit in your car and help you check your headlights, brakelights and turn signals. Don't forget to check your daytime running lights – it's easy to forget them and they do a great job of increasing your visibility to other drivers. Generally, a burned out bulb is a simple fix, but feel free to come to us if you run into any problems or have questions.
Windows
Replace cracked windshields and be sure to keep windows clean for the best visibility. Check your wipers to see if they need to be replaced. A visual check is good – you can look for dryness, cracking, and debris (usually leaves) – but the best way to test your wipers is to spray your windshield and run them. If they're not wiping the water away cleanly or they're squealing, it's time to replace them. Remember to check your rear wiper if you have one too.
Mirrors
The best way to position your side mirrors is so you can't see your own vehicle in them. The side mirrors should just barely pick up what is on the outer edges of what you see in your cabin mirror mounted on the windshield. Lean your head back against the headrest and move each mirror out until you're just beyond where you can see your car in the mirror. While most people like the orienting feeling of seeing the back of your car to gauge where other vehicles are, this approach leaves a lot of room for blind spots. By moving the mirrors out further, you can see enough of what's behind you and to either side that you won't have to look over your shoulder to switch lanes. It may take a little getting used to, but it is effective.
I hope everyone has an excellent fall season. Be sure to call or stop by Golden Triangle Auto Care for any questions you might have about your vehicle or its maintenance.