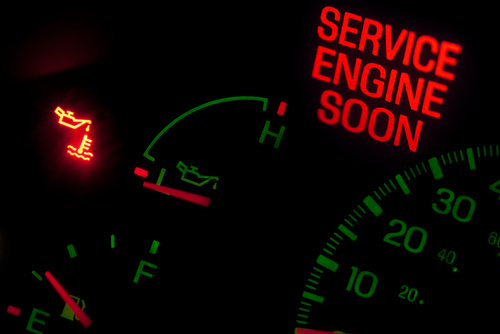 For every motorist who has ever scribbled in two entries to a mini 'Car Maintenance' notebook and then stashed the pad away in the far corner of the glove compartment, never to see the light of day again…And for every other motorist who has found him or herself squinting up at their windshield against a harsh midday sun trying to read the faded ink on a "Next Oil Change Due' sticker, we may have just the solution for you.
In fact, you may already have the answer riding around with you and not know it! Many (and more and more) vehicles come outfitted with a Car Maintenance Alert System. Such systems remind drivers when they are due for routine preventive maintenance as well as complete servicing. The simplest example would be a welcome reminder when it's time for an oil change.
More than half of drivers surveyed by AAA reported having a built-in maintenance alert system. This same study found that drivers whose car had an alert system were much more likely to bring their vehicle in for maintenance and servicing. In fact, 35% of motorists with an alert system reported having their car serviced more often than recommended! While you don't need to go that far, this finding reinforced the message that maintenance alert systems are useful – and, more importantly, actually tend to be used. Only 13% of drivers with an on-board system reported bringing their cars in for maintenance less frequently than recommended.
Remember, regular maintenance not only prolongs vehicle life and decreases the chance of a costly repair, it also cuts down on the likelihood of an accident related to failure of a poorly maintained system.
Don't have a Car Maintenance Alert System? Feeling Blue?? There's an App for That!
We know what you're thinking: That somehow this conversation would end up on an App!! Well you were right. If you don't have an alert system built into your car, there are plenty (and we mean PLENTY) of apps out there that will remind you on regular maintenance, not to mention keep track of a range of helpful data such as gas mileage and driving patterns. Some apps will even communicate with your on-board computer to provide pinpoint data on maintenance needs and potential problem areas!
We won't list all possible apps in this entry, but by browsing your favorite online store, you will come across a wealth of choices that range from a simple, convenient alternative to that mini notebook (which, incidentally, rarely, if ever, provide full-service ring tone reminders!) to more sophisticated apps that can actually work with your car's computer to identify poorly functioning systems that may require immediate repair.