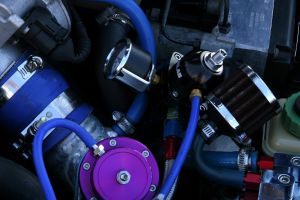 While each and every system in your car is important and deserves proper regular maintenance, it's pretty clear you won't be getting to that next doctor's appointment unless your FUEL SYSTEM is really on the up and up! Today we focus on your vehicle's FUEL INJECTORS.
In a nutshell, the cylinder head of your fuel injector sprays a controlled amount of fuel directly onto the intake valve, whose high heat helps vaporize the fuel (fuel must be in vapor form to burn completely). That spray needs to contain the finest/smallest size droplets possible to facilitate vaporization. Through the normal operation of your vehicle, carbon deposits settle onto the fuel injectors, which can result in a decrease in both the amount and the vaporization of the fuel. In addition, metal and dirt debris in the fuel system can, with time, overwhelm the system's filters, perforating them and passing through to become lodged in the injectors.
As carbon deposits and/or metal and debris accumulate on the fuel injectors, you can find yourself facing:
Decreased fuel economy.
Decreased engine performance.
Increased emissions.
Signs of Clogged Injectors
While not definitive, the following signs can indicate a problem with your fuel injectors:
A rough, unsteady idle, in which gentle application of the throttle may smooth this out.
Sluggish acceleration and also surging under full throttle. The engine may even stall in severe cases.
Misfiring under hard acceleration. Actually, the presence of such misfiring can help differentiate clogged fuel injectors from clogged fuel filters as the cause of symptoms. Injectors generally clog in non-uniform fashion, which, under hard acceleration, causes misfiring of one or more cylinders.
Take a look yourself. Visual inspection of the fuel injectors may reveal deposits/clogging.
Whether your vehicle is experiencing any the above 'symptom/s' – or it's simply time to have your fuel injectors inspected and cleaned (check with your mechanic or vehicle manufacturer, but many cars are recommended every 15,000 miles, and some can go longer intervals) – you have two choices for fuel injector care…and, really, it comes down to only one choice.