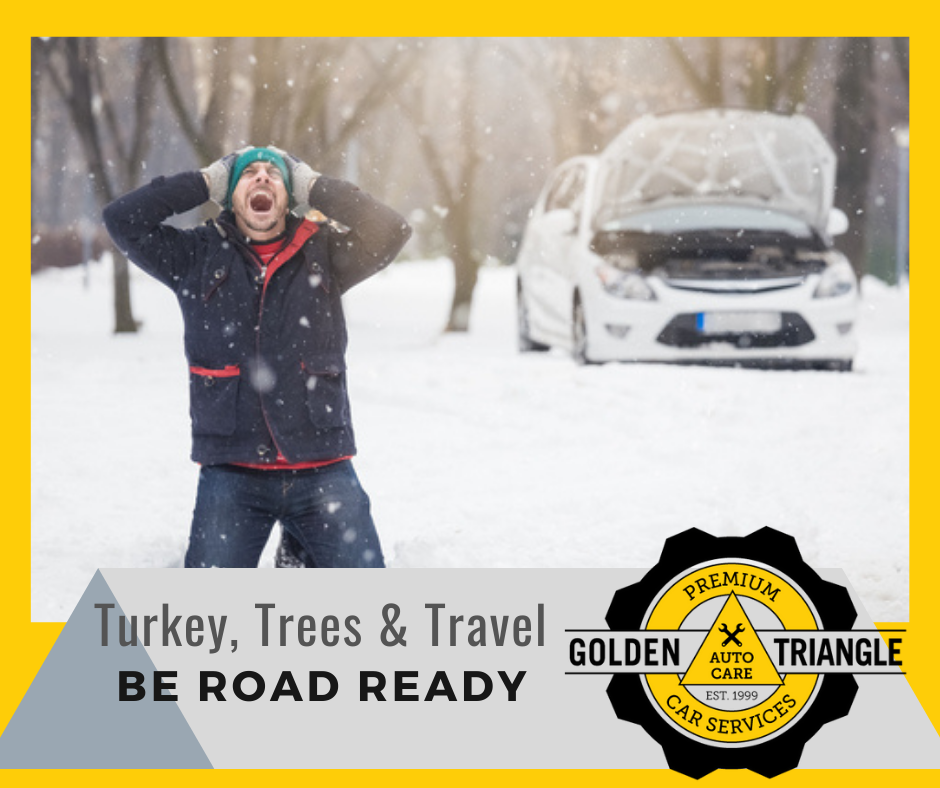 Ah, the joyous months are finally here, November and December. A time for sumptuous turkey dinners and gathering around the tree with friends and family.  It's also a time for slippery, icy roads and shoulder to shoulder highway traffic. To get through the season, you're going to need a can do attitude, some patience – and also a tip top shape vehicle!
Here are some tips from Golden Triangle Auto Care on getting your car ready for those sometimes grueling but ultimately joyful Holiday road trips.
Oil Changes:
Let's start with the basics. Sure, we all tend to fudge a little now and then on the timing between oil change intervals by 500 (or 1,000!) miles, but Holiday time is when you really, really don't want to risk mechanical trouble. So take a peek at your odometer, or the handy reminder sticker on the upper corner of your windshield. Follow that sticker or odometer reading to a T! The recommended intervals vary between every 3,000 miles if you use conventional oil; and every 5,000 to 6,000 miles for synthetic oil. Be sure to check with your mechanic or the oil manufacturer for your particular oil needs. Regardless, don't push the mileage too far beyond the recommendations. Just bring 'er in and get 'er done.
Minor and Major Service:
Here's a simple rule: Typically starting at 15,000 and then in intervals of every 15,000, your car needs minor or major service, in addition to or along with your oil changes. Just think Odd and Even. At odd intervals (15K, 45K, 75K, etc.), you're probably looking at minor service. For even mileage (30K, 60K, 90K, etc.), it's likely time for regular major service. Consult your Owner's Manual, or check with us here at Golden Triangle Auto Care, for the exact recommended time/mileage of your next scheduled service. We can run a quick diagnostic to be sure nothing is missed.
Tires, Tires, Tires:
You may have perused one of our previous blogs devoted specifically to tires, and we won't repeat too much of that same information. But let's face it, Holiday Time is crunch time! You want those tires in tip top shape before hitting the road to Grandma's.
Some questions you can ask yourself:
How does the tread look? You don't need to be an expert to have a hunch on your tire's safety.
Are you up to date on the CDOT (Colorado Department of Transportation) rules on tire tread?
How many miles do you have on the tires?
Is your spare tire ready to come in and pinch hit in the event of a flat?
Are your tires giving you the best possible gas mileage? Underinflated or misaligned tires/wheels can eat into your mileage over the long term.
If after running through the above checklist, you're not sure about your wheels, zip over to Golden Triangle Auto Care and we can confirm or reassure you on your hunch, and give the best recommendation for your tires.
Auto Body Issues Large and Small:
You know you don't want to be driving through a snowstorm with a severely cracked windshield or significantly dented passenger door; but what about the smaller things, like a cracked headlight or burned out head lights or brake lights?
While the temptation is there to tough it out on that Christmas Eve drive, why take a chance? Everyone's safety is at issue when you get behind the wheel, and many such small body issues can be taken care of in no time at all. We know time is even more of the essence during the Holidays, and the staff here at Golden Triangle Auto Care is prepared to take care of those last minute small issues that will put your mind at ease once they're taken care of.
Detailing:
There's no need to go overboard and detail your car back to how it looked when you first drove it off the lot. But a quick cleaning inside and out prior that Holiday journey can lift everyone's mood just a little bit and get your Thanksgiving or Christmas drive off on the right foot.
If you have any regular maintenance that's due or any questions – none too small – about the overall maintenance of your vehicle, give us a call at Golden Triangle Auto Care today!