Denver Oil Change Coupon
We are happy to offer our monthly Oil Change Coupons for our new and loyal Denver Colorado customers. These coupons include an oil change with up to 5 quarts of 5W-30 oil, tire rotation, and our exclusive 30-Point Vehicle Health Evaluation for only $40.00 at our Golden Triangle Auto Care downtown Denver location on Speer Boulevard in the Golden Triangle neighborhood, just south of Downtown Denver.  If your car requires Synthetic Oil, enjoy our $69.75 value coupon below!  Specialty filters & diesel-related products & supplies are extra; ask our front desk team or Marc for a quote when you schedule your appointment. We will honor any older coupons you present on your smartphone to our Senior Service Advisors at the time you check in for service.
All you have to do is show us the coupon on your smartphone and claim the deal!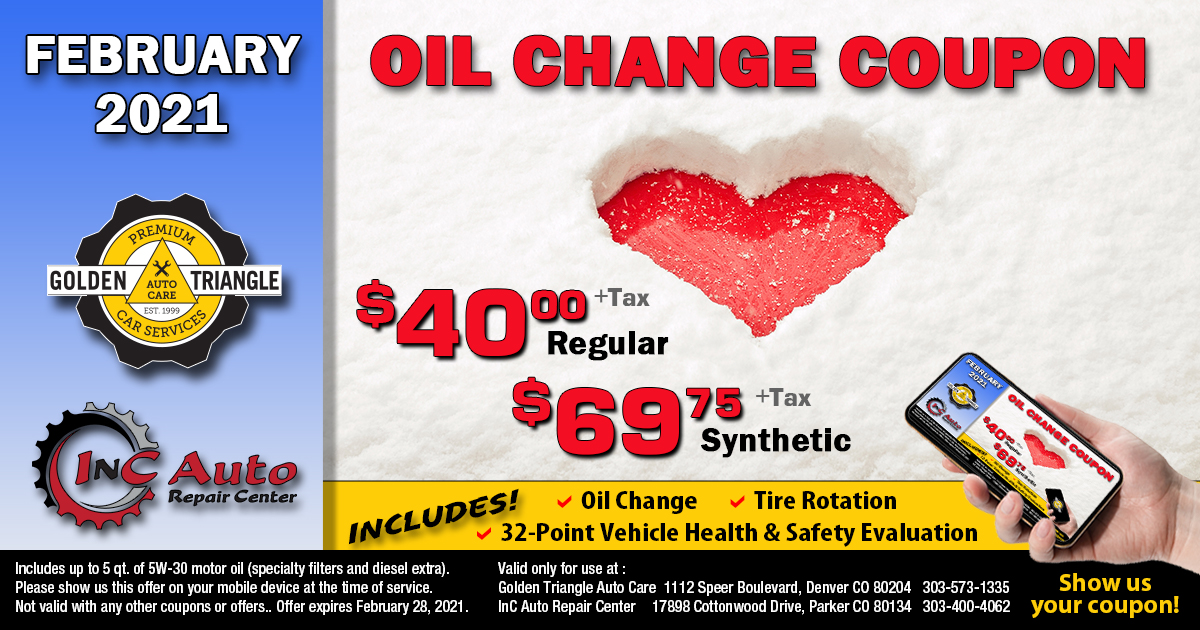 Oil Change Coupons. Discount coupon good at Golden Triangle Auto Care and InC Auto Repair Center only. Oil Change, Tire Rotation and 30-Point Vehicle Health Evaluation $40.00 plus tax for regular, and $69.75 + tax for synthetic oil. Oil disposal fee included. Does not include diesel, synthetic or specialty filters. Downtown Denver, Colorado – Golden Triangle Auto Care on Speer location or InC Auto Repair Center in the Cottonwood Plaza, Parker, Colorado only.  Coupons must be presented at time of service to claim the discount. One coupon per visit, per vehicle, per household, additional restrictions may apply. Golden Triangle Auto Care and InC Auto Repair Center retain the right to refuse any coupon at any time. Coupon terms may change at any time at the discretion of Golden Triangle Auto Care or InC Auto Repair Center without prior notice.
New in 2021!
We are proud to announce our expanded warranty: 4 Years or 40,000 miles on all parts and service
delivered by Golden Triangle Auto Care or InC Auto Repair Center.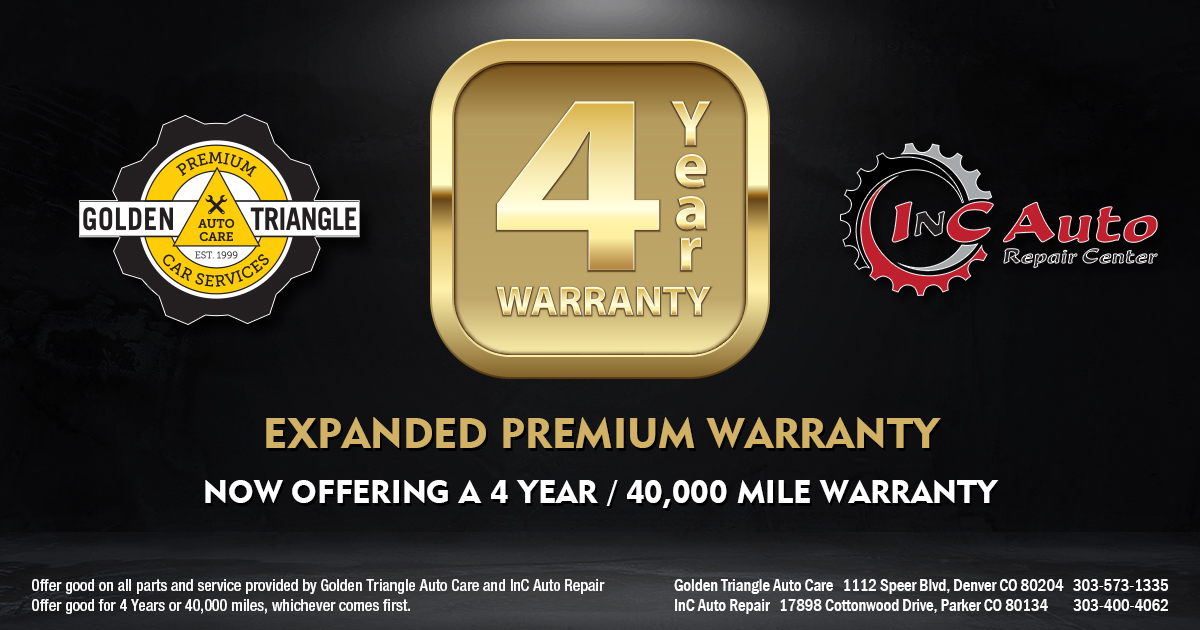 We've Got a $25 Visa Gift Card for You!
If you've been to one of our shops and like the service we provide, tell your family and friends.
If they tell us that you told them to come to us and their service ticket for parts & labor exceeds $200,
we'll give you a $25 Visa Gift Card to spend however you like! Earning $25 couldn't be any easier!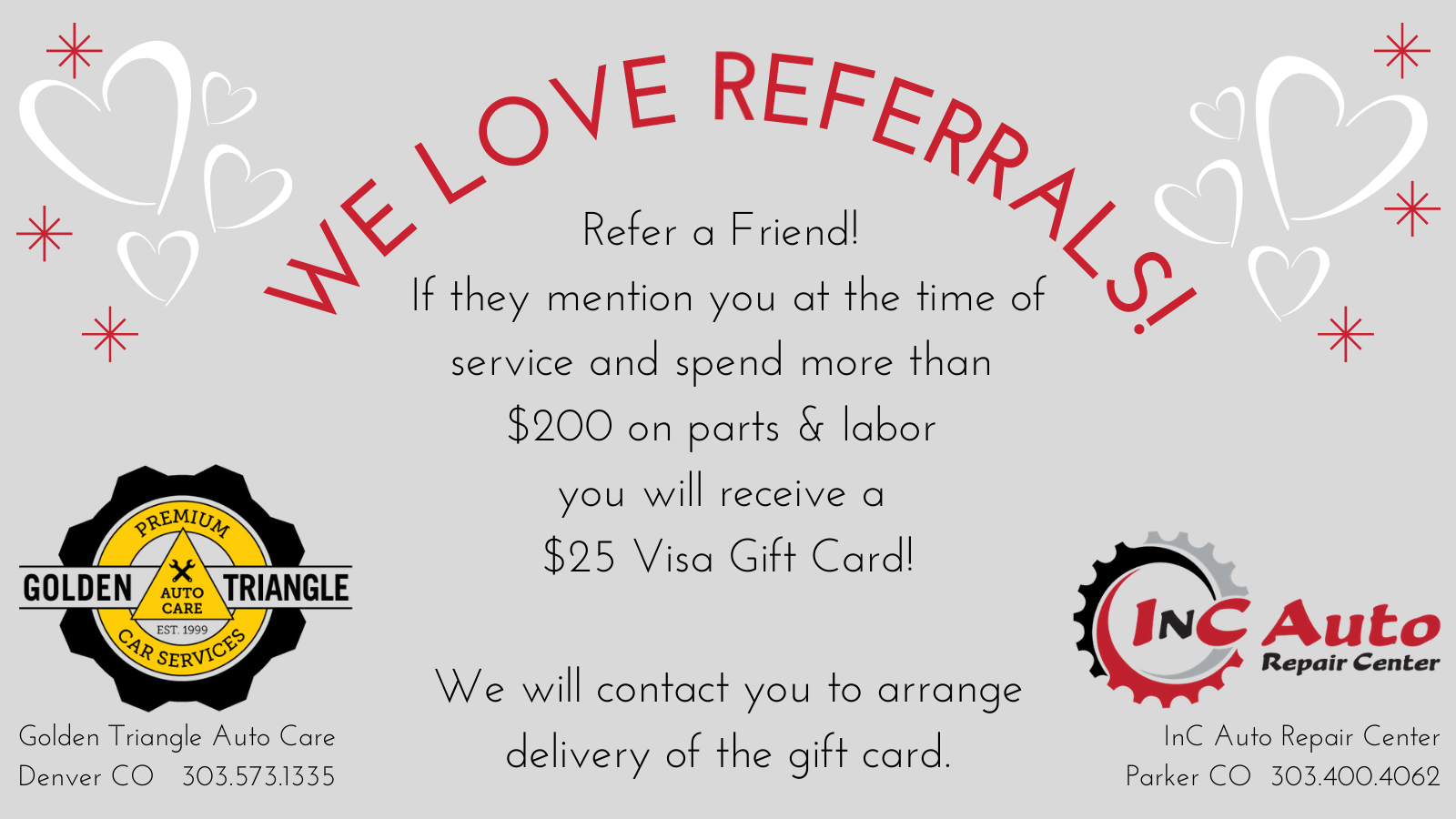 Car Care Gift Certificates
The perfect way to bring good cheer in the New Year to friends, family & heroes.
We've got gift certificates in any amount.
Give us a call and we'll get you set up.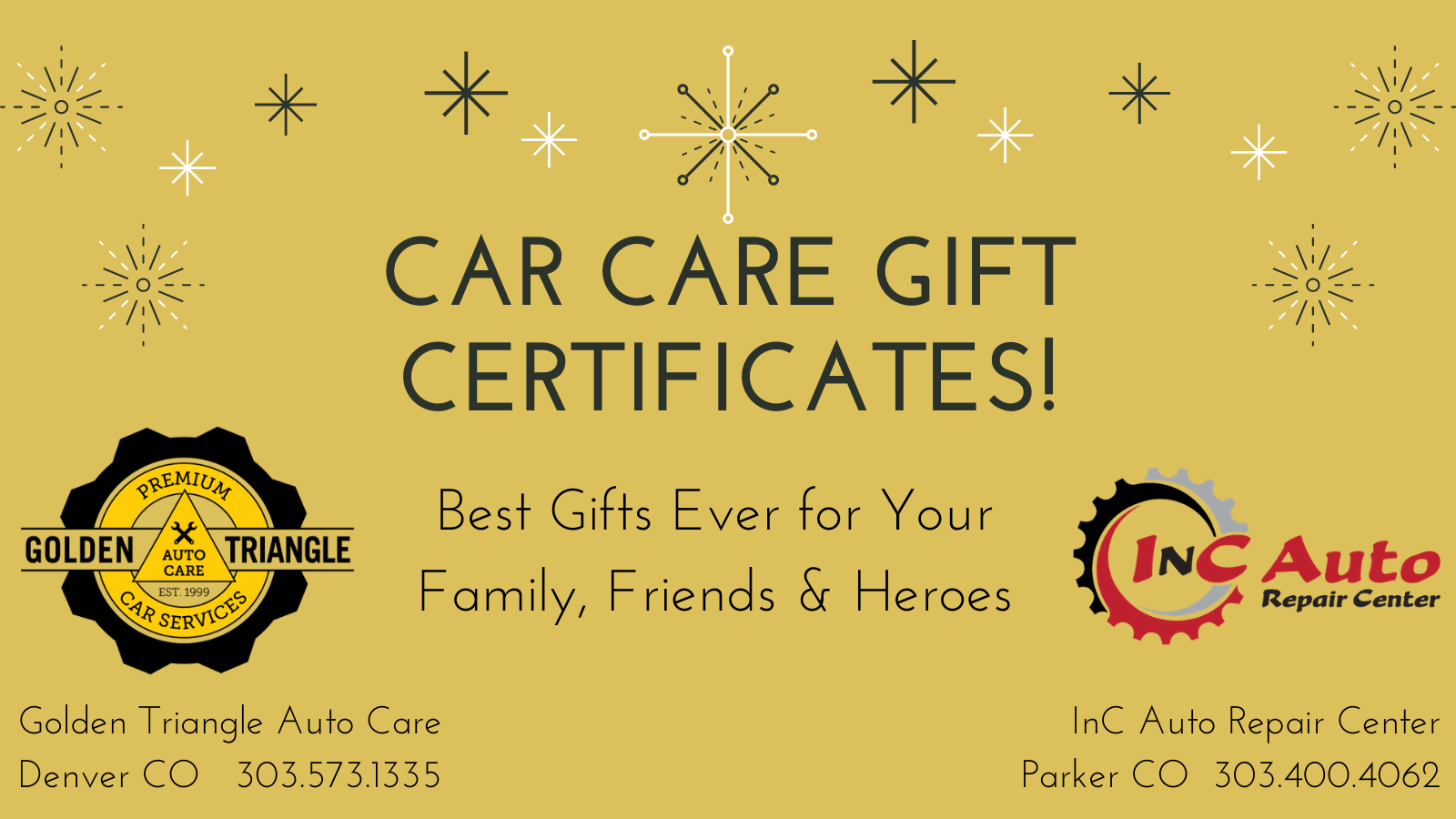 Don't Miss Out!
Sign up to receive our monthly newsletters!
They always include our latest deals and other tips on the best car care maintenance for your Colorado vehicle.