Denver Oil Change Coupon
We are happy to offer our monthly Oil Change Coupons for our new and loyal Denver Colorado customers. These coupons include an oil change with up to 5 quarts of 5W-30 Oil, tire rotation, and 30 point inspection for only $29.95 at our Golden Triangle Auto Care Denver location on Speer Boulevard in the Golden Triangle neighborhood, just south of Downtown Denver.  If your car requires Synthetic Oil, enjoy our $59.95 value coupon below!  Specified filters & diesel supplies are extra; ask our front desk team or Marc for a quote when you schedule your appointment.
All you have to do is show us the coupon on your smartphone and claim the deal!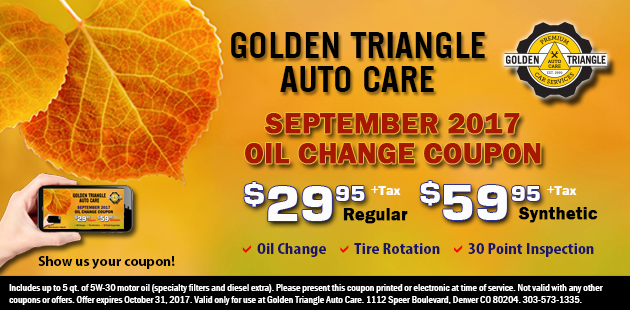 Oil Change Coupons. Discount coupon good at Golden Triangle Auto Care only. Oil Change and Tire Rotation $29.95 plus tax for regular, and $59.95 + tax for synthetic oil. Denver Colorado Golden Triangle Auto Care On Speer location only. Present coupon for discount. Additional restrictions may apply. Does not include diesel, synthetic or specialty filters. Oil disposal fee included. Coupons must be presented at time of service. One coupon per visit, per vehicle, per household. Golden Triangle Auto Care retains the right to refuse any coupon at any time. Coupon terms may change at any time at the discretion of Golden Triangle Auto Care.
We also offer a special promotion each month which can earn you additional savings when you bring your car in for service.  Here's what we have on tap for this month over and above our regular oil change coupon.  Show us the coupon on your smartphone and claim this deal too … be sure to share these with your family and friends!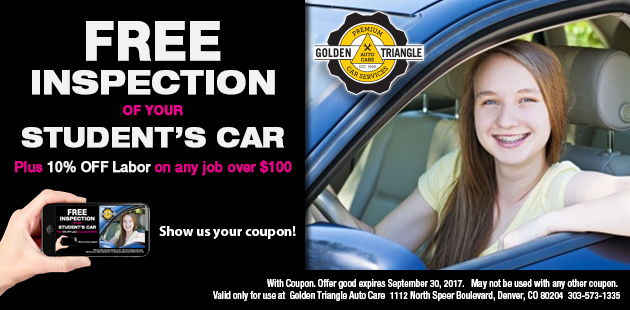 School Supplies Drive!
Giving back to the community is one of our commitments as a business in the Golden Triangle neighborhood.  During the months of September & October 2017, we will be collecting basic school supplies (pencils, pens, composition books, notebooks, and backpacks) which will be donated to Compassion Road Academy.  When you drop off your car for service, we invite you to bring these items into the shop and as a thank you, we will give you our special Oil Change discount.
Not familiar with Compassion Road Academy?  Here's their mission statement:
The Compassion Road Academy will use education as the vehicle to attain educational equity and equal opportunity to guide our students and their families on their journey to becoming conscious, competent and positively empowered advocates for themselves and their communities by providing our most at risk high

school

students the systems of educational rigor and relevance, flexible support systems responsive to student needs, targeted and purposeful interventions, and a strong sense of community anchored in the spirit of compassion for all.
Learn More about Compassion Road Academy's Vision & Goals